7 Powerful Gumroad Alternatives to Monetize Your Community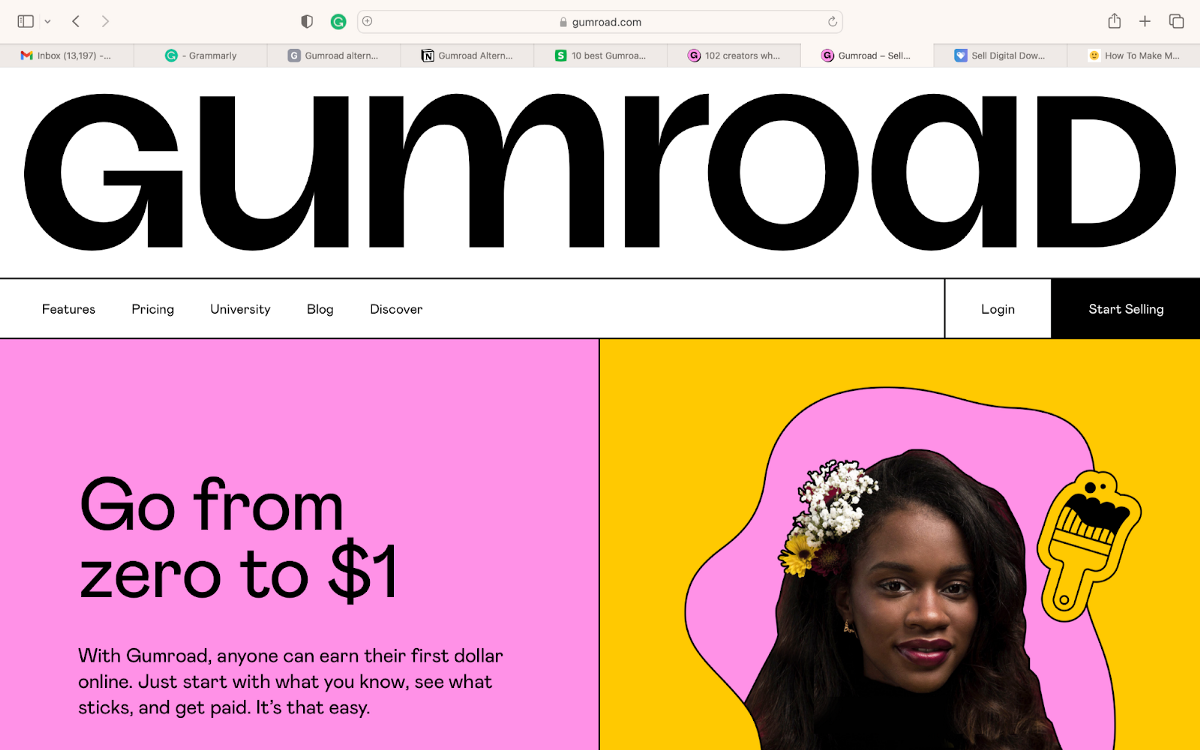 The much-loved creator monetization platform has increased its fees. Here's where you can shift to!
Today, Gumroad is more popular than ever among digital creators and solopreneurs. It hosts more than 78k creators who earned a whopping $142 million in 2020 alone.
Gumroad — Empowering Creators to Make Money Online
Founded in 2011, Gumroad is an eCommerce platform that lets you sell anything — from ebooks to video-based courses. You'll find writers, comedians, designers, musicians, coders — anyone with a digital asset that can help upskill the audience. There's no barrier to the creators' niches.
You can also look at it as a DTC platform — a channel that connects creators to consumers.
The platform thrives on a solid goal to help creators earn their first dollar online. It's a great medium to generate a passive income stream by doing what you love.
Fun fact: These 102 creators made over $1,00,000 each on Gumroad by cashing in on their passion. Isn't that amazing?
Pros of Gumroad
Gumroad is super easy to use. All you're required to do is upload your digital product and embed the auto-generated link to your website. That's honestly all it takes to start making money on Gumroad.
Strong selling points of Gumroad
Access to complete customer information
In-depth analytics to improve conversions and understand audience preferences
Drag and drop feature to easily create your product/service
Options to provide discounts and coupons to your audience
The "pay what you want" pricing model empowers fans to support creators with amounts greater than the proposed selling price
Personalized landing pages and so much more
There's no doubt that Gumroad is a seamless platform not only to build your digital business but also to scale it.
But recent groundbreaking changes in the platform may stop you from launching your business on Gumroad.
---
Why You Should Start Looking for Gumroad Alternatives
Considering the benefits of Gumroad, it's a goldmine for creators.
But amidst an approaching recession, the company has suddenly changed its pricing plans.
Initially, the platform charged a 9% fee plus 30 cents per transaction. As your Gumroad revenue increased, the transaction fees went down. You can check the below image to understand its pricing model further.
But from January 31st, Gumroad will charge a 10% flat cut on each sale.
This new pricing structure is a massive disappointment for thousands of creators. They perceive this move to hit their income negatively.
If, like other creators, you've strongly considered moving to another platform, this article will cover you. Here's the list of the 7 most competitive Gumroad alternatives
---
Sellfy
Sellfy is a comprehensive eCommerce platform for artists and creators. It allows its users to sell digital products, physical products, subscriptions, and print-on-demand merchandise.
Although Sellfy and Gumroad are similar, the former is more convenient. It takes less than 5 minutes to set up your e-store on Sellfy. Yup, it's that easy.
What sets Sellfy apart from other platforms is its print-on-demand feature. If you want to sell customized prints on merchandise, Sellfy will do that for you. The best part? You won't even have to hunt for a third party to ship the products to your customer. Once the order is accepted, Sellfy completes the end-to-end customer cycle — from printing to shipping the products.
Thanks to in-demand features like extensive marketing tools, a highly customizable store, and no hidden charges, it's not surprising that Sellfy is a go-to tool for more than 60,000 creators.
Sellfy vs Gumroad: Pros of Sellfy
Secure and reliable payment
Easy to setup
14-day free trial
Provides unique download links with limited download attempts to avoid unauthorized distribution of your product
No commissions or hidden fees
An easy-to-use mobile app
Built-in email feature that helps you send customized emails to your customers
Upselling and cross-selling features
Pay what you want pricing
Built-in affiliate program
Sellfy vs Gumroad: Cons of Sellfy
Lacks advanced customization options
Offers only two payment processing options — Paypal and Stripe
No free plan
Limited third-party app integration
The free trial is only for 14 days; after that, you have to purchase the premium plan
How much does Sellfy cost?
Sellfy has three payment models. It starts at $22/month if you choose a yearly subscription.
---
2. Shopify
Shopify is one of the fastest-growing platforms dominating the eCommerce space. 1.75 million run their businesses here.
No wonder Shopify has become synonymous with online businesses.
The all-inclusive platform lets users sell everything from physical/digital products to subscriptions. It offers all the facilities you need to run a business — setting up your store, uploading products, interacting with customers, and accepting payments.
Its many features make Shopify stand out among other eCommerce portals. It's highly customizable, offers marketing channel integration, and ensures secure transactions — a significant win-win for you and your customer.
That said, Shopify is slightly more expensive when compared to other service providers. It also involves a steep learning curve when setting up your store.
Shopify vs Gumroad: Pros of Shopify
It has a mobile app for Android and iOS devices
Built-in blog engine
24/7 prompt customer support
Highly customizable with multiple themes to choose from
Powerful SEO tools to improve your website's ranking
Provides an abandoned cart recovery service
Ideal for large businesses and independent creators alike, as it can handle extensive inventory
Shopify vs Gumroad: Cons of Shopify
The interface is not beginner friendly. You may need to take the help of the how-to guides
Offers a free trial only for 3 days
Limited built-in marketing tools
A transaction fee of a minimum of 2.4%
No email hosting support.
How much does Shopify cost?
Shopify plans cost $29–299/month, depending on your plan.
---
3. Podia
If you're looking for a Gumroad substitute to create and sell your online courses, Podia is your safest bet. This dynamic eCommerce platform offers a clean interface, unlimited video hosting, and excellent customer support to present your courses.
Podia also allows its users to offer memberships, host webinars, and sell digital products.
This all-in-one platform extends valuable features like email marketing, upselling, coupon codes, affiliate marketing, basic customizations, and more.
Another substantial advantage that Podia provides is that it doesn't charge any commission on transactions like Gumroad. But what overshadows this irrefutable incentive is the platform's high fees. That said, you and your business will be the best judge in weighing the advantages and disadvantages of the payment model.
Also, if you plan to sell physical products, Podia will not be an ideal platform because it doesn't support that.
Podia vs Gumroad: Pros of Podia
Build your email list
Hassle-free setup and interface
Track student progress
Flawless UI/UX design
Instant payouts
24/7 live chat customer support
Free plan available (0 upfront fees)
No transaction fees on premium plans
Podia vs Gumroad: Cons of Podia
Limited customization options
No mobile app
Limited advance analytics
It doesn't support physical products with services like shipping
Paid plans are expensive for early business owners
Membership and affiliate programs are only available on premium plans
How much does Podia cost?
Podia offers a free plan but charges an 8% fee. The paid plans range from $39 to $ 179/month.
---
4. Payhip
Payhip is a one-stop solution for creators, artists, and podcasters.
Its eCommerce solutions offer a range of features, such as a course builder, inbuilt marketing tools, and advanced customization.
The biggest deal breaker with Payhip is that it's far cheaper than Gumroad — making it an ideal choice for early bloggers who don't want to bear high monthly fees. Not just that, it's also super beginner friendly and saves the hassle of dealing with a complex system.
But like other platforms, it's not perfect. Some of the limitations of Payhip are that it does not offer any marketing tool apart from discounts, affiliate systems, and coupon codes.
Payhip vs Gumroad: Pros of Payhip
Pay what you want pricing
Access to marketing features like coupons, affiliate system, and social discounts
Useful analytics to improve sales
Provides PDF stamps to safeguard your product from copyright infringement.
Minimal 5% transaction fee on every sale
Handles EU Vat
Ease of use
Payhip vs Gumroad: Cons of Payhip
Offers free plans but has a high transaction rate of 5%
Not ideal to sell physical products
Limited customer service support
Limited scope of store designing
It does not offer cross-promotion features
How much does Payhip cost?
Payhip has three pricing tiers. The free plan with a transaction rate of 5%, and the paid plans start at $29/month.
---
5. SendOwl
In 2010, George Palmer built SendOwl when he realized there were only a few reliable channels to sell digital products. Since then, he wanted to create a platform that was both secure and easy to use.
These are the same go-to features that have led SendOwl to accumulate a loyal following of many small and big businesses.
This cloud-based platform is not just another eCommerce platform. Instead, it empowers its users with marketing tools such as pay what you want, discounts, coupons, and gift certificates. Also, their website's case studies and guides are of great help if you deal with technology overwhelm.
The only drawback with SendOwl is that it doesn't let you build a storefront. It only offers a simple solution to sell online.
SendOwl vs Gumroad: Pros of SendOwl
Pay what you want pricing
User-friendly customer experience
Pain-free setup process
Multiple gateway options
Excellent for bloggers to sell premium content
Built-in affiliate program
It has a free plan
SendOwl vs Gumroad: Cons of SendOwl
It does not let you build a storefront
No options to grow and engage your community
Poor emergency customer support
Limited designing customization
How much does SendOwl cost?
Sendowl has two pricing plans. The platform charges a 5% fee on every sale if you choose the free plan. The growth plan starts at $19/month.
---
6. SamCart
SamCart is a versatile eCommerce platform-cum-shopping cart software. It allows users to sell ebooks, courses, memberships, order management, and so much more.
All you need to do is create your page (bonus: they also have an exhaustive list of pre-designed templates). Next, upload your product and start selling. It's that simple.
It's far ahead of Gumroad in providing competitive marketing features such as A/B split testing, affiliate management systems, cart abandonment, and so much more.
But SamCart does not offer free plans, and all their paid plans are expensive for beginner creators.
SamCart vs Gumroad: Pros of SamCart
Allows A/B split testing for better results
In-built affiliate system
Super responsive customer system
0% transaction fees
Extensive in-built eCommerce features
Sales and VAT tax support
Flexible payment models
Single-click upsells and bumps
7-day free trial
SamCart vs Gumroad: Cons of SamCart
Limited design options
Expensive for businesses with low revenue
No free plan
No support integration with webinars
How much does SamCart cost?
Samcart is more expensive compared to other eCommerce platforms. It doesn't offer a free plan; its paid plans start at $39/month when billed annually.
---
7. Teachable
Got a skill that you want to teach and share with the world? Then join hands with Teachable. It is an excellent platform for entrepreneurs and coaches to launch their courses. Not just that, this channel also lets you sell digital products in any form — pdf, audio, video, text, photos, etc.
Teachable is super beginner friendly. This platform will impress you if you're a big fan of fuss-free technology. All you need to do is create your account, build a sales page, upload your product and start selling.
Not just that, Teachable also brings useful marketing features like coupons, promotions, email marketing, and affiliate programs.
The only factor that may make you second-think about choosing Teachable is its price model. Although it offers a free plan, it still charges a high $1 + 5% fee on every sale.
Teachable vs Gumroad: Pros of Teachable
Powerful course builder to launch online courses
Single-page checkout for faster conversions
Easy to use
Intelligent drop and drag editor
Supports affiliate marketing tools
In-built email automation
Teachable vs Gumroad: Cons of Teachable
Lacks support to sell physical products
Charges transaction fees on all plans
It offers only chat and email support. No phone support.
How much does Teachable cost?
Teachable offers a free plan. Its paid plans start at $29/month when billed annually.
---
Final Words: 7 Powerful Gumroad Alternatives to Monetize Your Community
Summing up, here are the seven Gumroad alternatives that allow creators to monetize their audience and earn their first $ online:
Which Gumroad alternative are you going to try? Let me know in the comments.
---
Intrigued about how writing online can turbocharge your entrepreneurial ventures? Grab The Ultimate LinkedIn Guide and start building your business on LinkedIn today.