Mistakes That Almost Killed My YouTube Channel
Avoid these mistakes to get rapid growth on YouTube.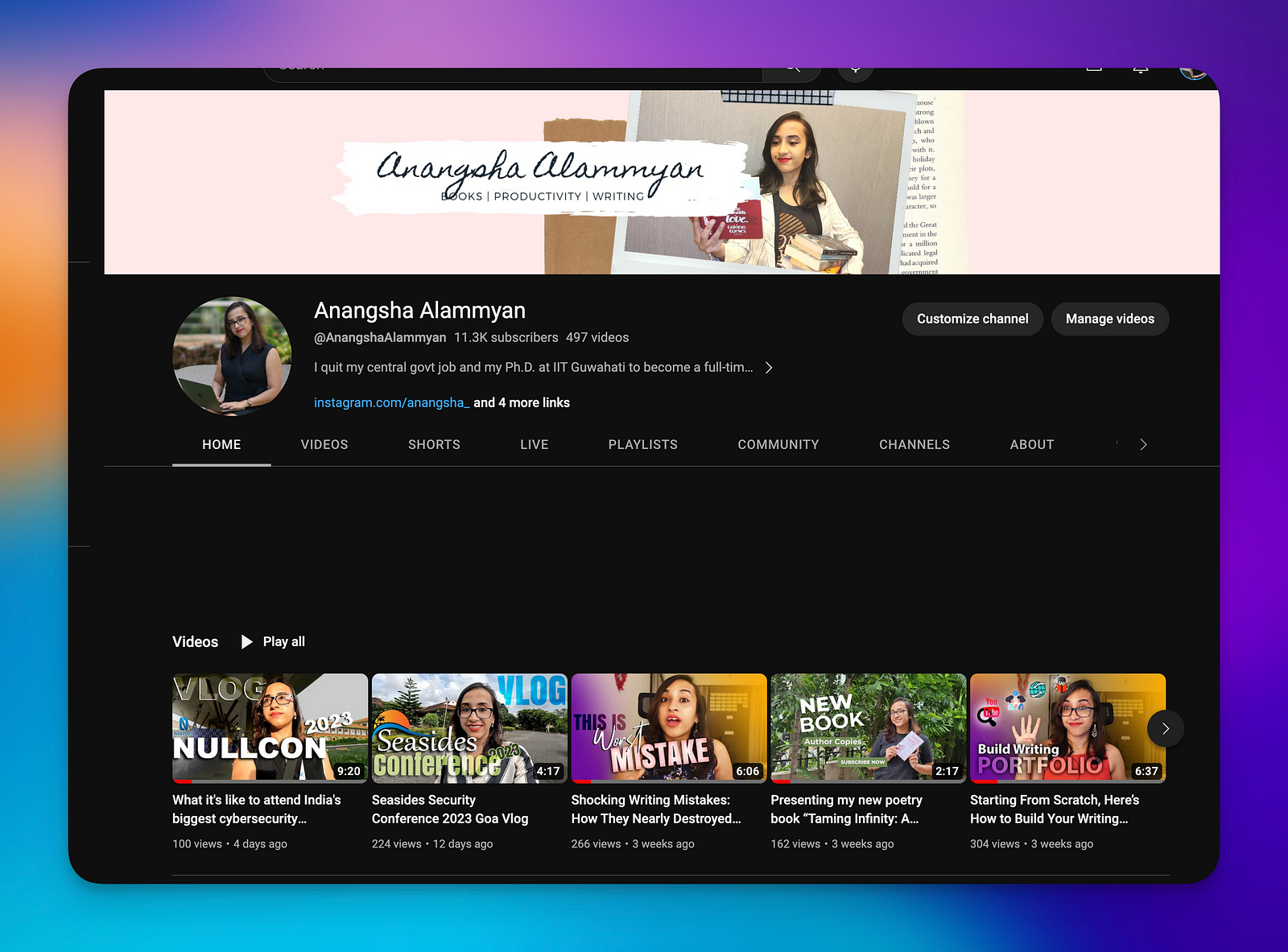 ---
Avoid these mistakes to get rapid growth on YouTube.
In 2020, I started my YouTube channel with great hopes. My 2020 planner still reads:
Reach 1k followers in 1 month.
Make 10 videos every month.
Get monetized in a year.
Today, when I look at it, I smile at my naiveté.
In reality, it took me about 150 videos and 3 years to finally get monetized in May 2023. Also, no. Neither did I hit 1k in a month, nor could I make 10 videos monthly.
My 2020 YouTube goals reflected my lack of understanding of the YouTube platform and algorithm. I made several mistakes that held me back from phenomenally growing my YouTube channel.
I recently crossed 10k followers, and in this time, I've learned a lot from my initial shortcomings.
If I had to start YouTube from scratch again, here are some mistakes I'd avoid.
---
Only following my heart
I came up with my first YouTube video idea while writing an article. I felt that was an important topic to make a video on. It was my first mistake — creating content based on what I felt and not on what the audience needed.
The key to growing a YouTube channel is having clarity on what your target viewers like to watch.
Two easy ways to research and gather data on your target audience are:
If you're already active on any other social media platform, conduct an audience survey to gauge what subjects work for them on YouTube.
Search for trending topics in your niche and go through the comment section. You'll find many comments suggesting what the viewers want + the existing videos can inspire new your own ideas on similar topics.
These are pretty easy-to-follow steps that can yield great returns. My channel would have grown faster if I had stuck to the audience's choice from the beginning of my video making journey.
---
Not scripting to the t
Years of experience later, this point seems quite obvious: a video is different from an article.
Initially, I shot impromptu videos or read out my articles on camera.
Those videos seem very erratic and unorganized in their approach. They also recorded poor CTR. This is why it's essential to write a script before you shoot a YouTube video.
While writing the script, include better hooks to hold the attention of your viewers till the end.
Written scripts have a better flow and help create organized videos.
During the post-production stage of editing, a script can come in handy as a singular representative of your vision. These scripts make video editing smoother while improving your video quality.
---
Skimping on the editing
I call this mistake a calculated one. It was a deliberate choice that later proved to be a mistake.
I didn't want to invest any money in my YouTube channel before I started generating revenue from it. I thought it would be wise to do all the editing myself.
My unprofessional touch was apparent from the videos. I spent hours perfecting each cut to the point that editing became terrifying. I put off making new videos only to avoid editing them.
This massively slowed my progress and hindered the growth of my YouTube channel.
In hindsight, investing in a video editor from the start would have been a wise choice.
Hiring an editor resulted in much better video quality. It also freed up my calendar for other tasks and reduced my anxiety around shooting videos.
This investment will pay back its weight in gold in the longer run, so you should definitely consider hiring a professional video editor.
---
Getting lazy about the thumbnails
This is one of the most common mistakes almost all beginners make. I focused on shots and camera angles of my videos but never much on the thumbnails. Mostly, I wrote the video name on the thumbnail and posted it. 
Big mistake.
Thumbnails on YouTube should abide by SEO guidelines to rank higher on the search results.
Some best practices to keep in mind while designing thumbnails are:
Keep the thumbnail text under 4 words.
Use a bigger sized font with clear, recognizable letters.
Include a picture (preferably yours) with a relevant expression to break the scroll pattern and hook the viewer.
Following these simple steps while designing my thumbnails has worked like a charm for my YouTube channel.
---
Not promoting my videos
In the beginning of my YouTube journey, I was apprehensive of sharing my videos across all socials.
Was it because the topics were common, or because my video quality wasn't at par with other great YouTubers? I don't know.
However, there's no surprise that my viewership was too low.
It took some self-convincing to beat my own drum without feeling like an imposter.
Once I started promoting my videos on LinkedIn, Twitter, WhatsApp, Instagram, and my newsletter, the viewership instantly soared.
This is why, remember, that publishing is not enough.
It is equally important to keep all apprehensions aside and promote your videos to attract more eyeballs.
---
Not taking the engagement aspect into consideration
Think of your favorite YouTuber.
One response from them can make your entire day. Then why shouldn't you be that YouTuber to someone?
Replying to comments signals to the algorithm that you're serious about reaching out to an audience. It also makes your online personality more approachable and trustworthy for the viewers. They tend to reply to your comments as well. The more responses you get, the better your engagement rate is.
When your YouTube channel gathers high engagement, the algorithm marks your videos worthy of organic promotion.
Make it a point to always respond to comments and engage with your audience for steady growth.
---
Not leveraging in-built platform tools
I saved my biggest mistake for the last.
I made my first YouTube Short a year after this feature was introduced.
YouTube Shorts is currently the most underrated way to grow on the platform. It recorded 2 billion monthly users in July 2023. That's a potential audience of 2 billion people who you can reach with a YouTube Short video.
It has a great virality factor if people start resonating with your content.
Today, my highest viewed short video has more than 3.4 million views, and it gave me 5000+ unique followers. To put things into perspective, that's almost half of my total YouTube following.
If I had leveraged this feature earlier, I can't fathom the viewership I'd have gathered by now. It's one mistake you have to avoid at all costs.
---
YouTube beginner mistakes to absolutely avoid
All these 7 mistakes can't be a dealbreaker, but they can slow down the progress of your YouTube channel.
You can build a thriving network on YouTube if you take away the following learnings from my mistakes:
Always make your audience the first priority.
Follow a script instead of shooting impromptu videos.
Hire an editor to save some time and dedicate it towards better ideation.
Design proper thumbnails that are attractive and click-worthy.
Promote your videos across all socials.
Reply to all comments on your channel.
Leverage the power of shorts.
As I stand at 11k subscribers, my YouTube journey is just getting started. I've rectified these mistakes and seen visible differences in the performance of my YouTube channel. Incorporate them in your YouTube career and witness the change yourself.
It's time you got the growth people on the internet talk about.
---
Love writing but don't know where to start? Join my FREE 5-day course. It'll teach you the successful writer's framework that took me 5 years to master.
More on YouTube content creation here —