Reconnect With Your Inner Child Through These 5 Inspirational Books
Who says inspiration comes only from reading non-fiction?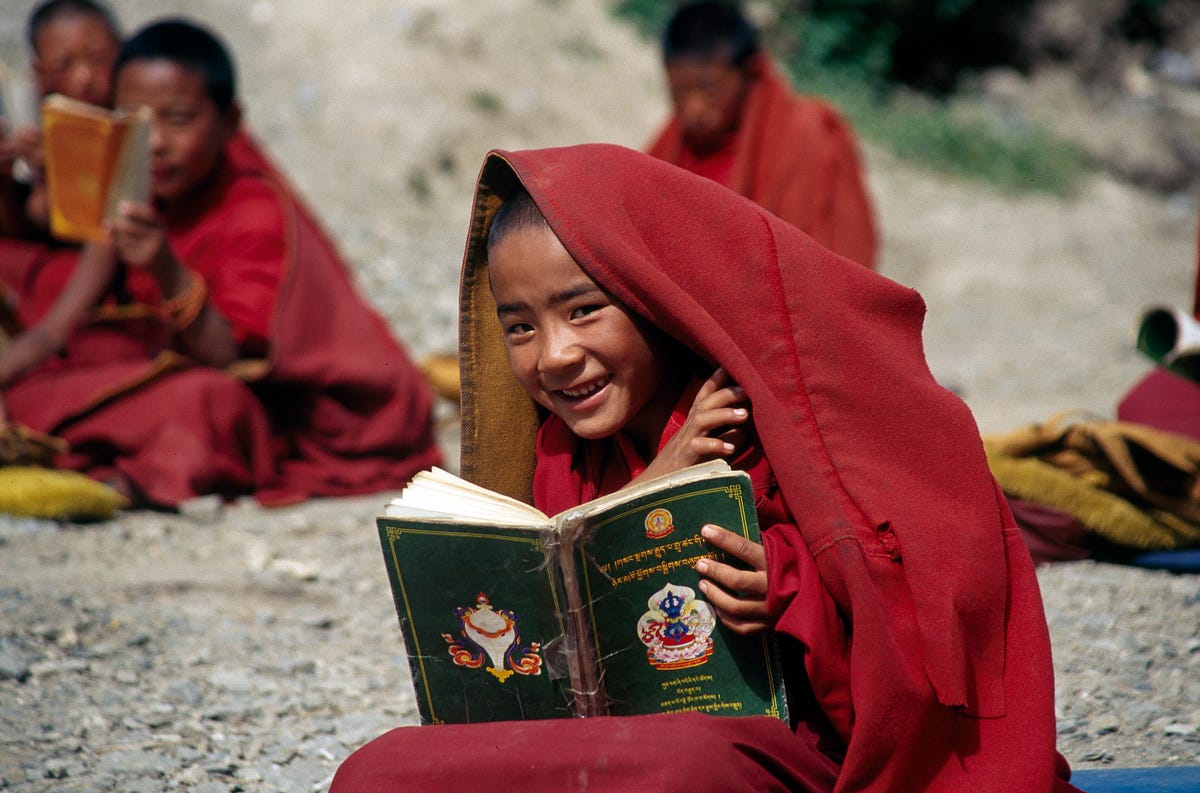 ---
All my childhood, I wanted to be like the protagonist of my favorite books.
Kids know no restrictions on imagination and try to become everything they hear about.
But have you wondered why we restrict our imagination when we get older? Most of us no longer think of ourselves as the main character of our lives.
Grown-ups have a lot to learn from books about child protagonists to connect with their inner child. Some magical inspirational books help us reconnect with our imaginative minds where everything is possible.
Here are my five most inspirational books of all time that will teach you many valuable lessons. Let's go.
---
The Alchemist by Paulo Coelho
This is the classic tale of a shepherd boy who discovers his personal legend.
Santiago has this inner calling to go out and find worldly treasures. The first big step for him was to let go of his sheep and his old life as a shepherd.
On his way to following his dream, he learns about listening to his heart, recognizing opportunities, and reading the omens.
I could relate to Santiago's journey and how he changed his destiny by following his dreams. He had to sacrifice a lot for a greater cause. A heart-warming combination of mysticism, worldly wisdom, and an inspiring tale of chasing one's dream, The Alchemist will leave its impression on you forever.
Most valuable takeaway from this book
The Alchemist is all about breaking the norms and pursuing dreams regardless of what others say.
We're conditioned to follow a certain pattern and live a life set by societal norms. This book has made me realize that only I have the right to control and create the life that I want.
The Alchemist tells us how to overcome the fear of failure and explore our full potential. Only by trying and failing will you understand what you want and gather the courage to follow your passion.
My favorite quotes from The Alchemist by Paulo Coelho
"And, when you want something, all the universe conspires in helping you to achieve it."
"When we love, we always strive to become better than we are. When we strive to become better than we are, everything around us becomes better too."
"The simple things are also the most extraordinary things, and only the wise can see them."
---
Pippi Longstocking by Astrid Lindgren
Tommy and his sister Annika have a new neighbor with weird red pigtails, a horse, and a monkey. She has no parents around to tell her what to do and always shouts her opinion to unreasonable adults.
She's unpredictably funny and the siblings are intimidated by her. She is Pippi Longstocking, a 9-year-old girl with superhuman strength. She has a unique way of seeing things and questions everything that adults consider normal. Pippi represents all the kids who are called rebels for not following the rules and living in their own way.
Most valuable takeaway from this book
Pippi Longstocking inspired me to see things differently. It made me approach life with the mantra, "If I were a child, what I would do?"
Would I care what others think?
Would I mind if someone judged me?
No, because kids are real. They don't pretend. They're meant to play, fall, and learn. Sometimes we also need to connect with our inner child to bring our curiosity back to life.
My favorite quotes from Pippi Longstocking by Astrid Lindgren
"I have never tried that before, so I think I should definitely be able to do that."
"Don't you worry about me. I'll always come out on top."
---
Artemis Fowl by Eoin Colfer
Artemis Fowl is a fun children's book with an endearing combination of sci-fi fantasy, humor, and a 12-year-old smart child protagonist.
Artemis Fowl is a genius but also a criminal mastermind. He has a bodyguard, Domovoi Butler, with whom he kidnaps a fairy for large 24-carat gold reserves.
But there's a lot more to the story that shows why he did that and what consequences he had to face. It's a thrilling read following the disappearance of Artemis's father and the dark secret of why his mother barely leaves her room.
With unexpected  twists and turns at every corner, this book is truly unconventional and will leave a mark on you.
Most valuable takeaway from this book
The story of Artemis Fowl has always inspired me to be humble.
No matter how smart or rich you become, never disrespect anyone.
Humility is the most attractive quality a person can have.
All of us make mistakes but owning that mistake and learning from it is what makes us humble.
My favorite quotes from Artemis Fowl by Eoin Colfer
"Confidence is ignorance. If you're feeling cocky, it's because there's something you don't know."
"If I win, I'm a prodigy. If I lose, then I'm crazy. That's the way history is written."
"Hit that back-stabber where it hurts, right in the ambition."
---
Holes by Louis Sachar
Holes is the bizarre and funny story of Stanley Yelnats, who finds that he was under a curse when he's falsely sent to a boy's detention center called Camp Green Lake.
His life completely changes after this incident. Soon, he starts digging for the truth along with holes, exactly five feet deep and five feet wide.
In reality, Camp Green Lake is just a barren land with many holes. Other sinister things are also going on in Green Lake.
Stanley learns about the camp's prosperous history and gradually the truth about his no-good-dirty-rotten-pig-stealing-great-great-grandfather's curse. In the end, every dot is connected and the book gives a great message that every small action can have a larger impact.
Most valuable takeaway from this book
The story of Stanley justifies by the quote- Fortune favors the bold.
Despite being stuck in Green Lake and falsely accused of stealing, Stanley keeps digging into the truth. Even in tough times, he was courageous and believed in himself. Give this book a read if you want a mindblowing story with a life-changing lesson.
My favorite quotes from Holes by Louis Sachar
"When you spend your whole life living in a hole, the only way you can go is up."
"You have only one life, make the most of it."
---
Inkheart by Cornelia Funke
Inkheart is the magical story of a bookbinder Mo and his beloved daughter Meggie. It revolves around a book, Inkheart, that turns their lives upside down.
Meggie is a bookworm; all she does after school is read fantasy stories.
Sadly, her father stopped reading books to her after her mother mysteriously disappeared.
Everything was great until a stranger knocks on their door. The adventure starts when an evil ruler escapes the fictional world and lands in the real world.
Will Meggie be able to get out of this nightmare and get her father back?
Most valuable takeaway from this book
Inkheart is a book about hope and belief in the unbelievable.
Sometimes, when nothing works out in your favor, being hopeful can greatly change the course of time.
Have you ever wondered why everything works out in the end for a protagonist? Because they never lose hope and wish for the best, even when the odds are stacked against them.
My favorite quotes from Inkheart by Cornelia Funke
"Books have to be heavy because the whole world's inside them."
"Because fear kills everything," Mo had once told her. "Your mind, your heart, your imagination."
"The sea always filled her with longing, though for what she was never sure."
---
For more book reviews and recommendations, follow me on Goodreads.