Talking About Fiction on LinkedIn (While Building an Audience)
Spilling the beans on a feature that helped me build a consistent audience on LinkedIn.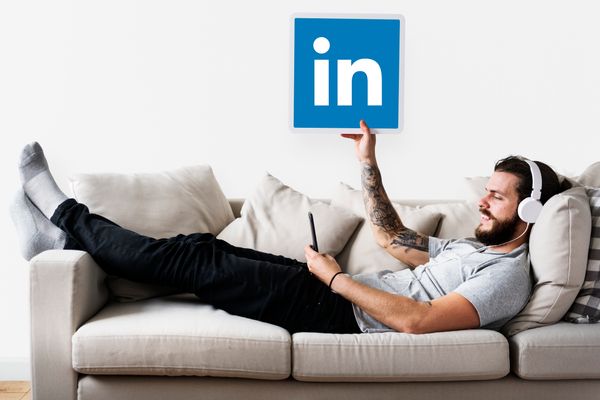 Spilling the beans on a feature that helped me build a consistent audience on LinkedIn.
By now, you must be tired of LinkedIn Gurus teaching you 100 ways to 100x your engagement rate.
Sure, the tricks must work. But who's got the time to experiment with a hundred ways to find THE ONE that works for your audience?
That's why, I've done the research and experiments for you.
After years of content creation on LinkedIn, I've found one of the best features here to build a loyal following.
It's relatively a newer addition and not many people are leveraging it. So now might just be the right time to jump on this LinkedIn Fame Bandwagon.
The feature I'm going gaga over is…
.
.
.
LinkedIn Audio events!
If you've read my previous articles, you must already have an idea of how much I appreciate LinkedIn Live Events.
Audio events hold a special place for me as they allow me to bring my profession and passion to the same stage.
Also, LinkedIn heavily promotes audio events, so that's a cherry on top.
---
What's the big deal about LinkedIn Audio events anyway?
Before I let you in on actual stats and anecdotes from my own LinkedIn Audio events, you should know why this underrated feature is a creators' favorite.
It's super easy to set up and go live
All it takes is a press on the '+' button on your LinkedIn home screen, and you can create an event.
Audio events are extremely chill, as I don't need to check my appearance before going live.
Dark room. Lying on the bed.
That's my best way to think and share those thoughts — on LinkedIn Audio events.
You get an exclusive pass to your audience
After all, your social media presence depends on your audience. Audio events make it easy to have 1:1 conversations on a personal level, understand their pain points, and provide tailor-made solutions in your upcoming posts.
This is one of the few LinkedIn features that allows you to understand the psychology of your target audience in real-time.
By creating content around your audience's interests, you can build a loyal online community.
You can collaborate with other LinkedIn creators
One of the best things about LinkedIn is its community of like-minded creators to learn from.
You can collaborate with them and talk to their followers directly through LinkedIn Audio events. This helps you broaden your network as well.
---
My experience with LinkedIn Audio events
LinkedIn is pretty big on self-improvement, but that doesn't take away the spot to discuss our passions and things that bring us sheer joy. For me, it's my love for reading fiction.
I was talking to one of my fellow LinkedIn creators about how the reading bug bit me very early in life. We discussed our favorite authors, their writing styles, and their works — when we hit a block.
Haruki Murakami.
Truth be told, I'm not a big fan of his work, while my fellow creator was in absolute awe.
That's when we decided to have a neutral person chime in, take our discussion to the masses, and talk about everything Murakami.
It was the beginning of a series of interactive LinkedIn Audio events on books and authors.
---
Case Study #1. Haruki Murakami: A Tale of Two Emotions
My first LinkedIn Audio event of the Fiction series started with my co-hosts Binati Sheth and Supriya Bohra.
This was just the first episode, and it brought in 70+ attendees. We had a stimulating conversation on how there's no middle ground when it comes to Murakami. You either love his writing, or you don't — at all.
To our surprise, the audience was as divided in their opinions as we were. It was a fresh change of mood on LinkedIn for us, as we are used to talking about our experiences and professional growth only.
As for the stats, they were pretty impressive for such an unconventional audio event on LinkedIn. The event post reached 369 unique visitors, and 72 of them attended the live.
My takeaways from the event
The 1-hour audio event brought me closer to my audience and even Binati and Supriya's audiences (insert grins). I got several DMs from people agreeing with my perspective and gained new followers too.
Tons of emoji reactions and raised hands made the event interactive and fun.
The very first audio event set the stage for the upcoming episodes as our audience of 72 was now looking forward to more.
Many people tuned in to the comments section later saying they'd have loved to attend the event and won't miss the next one.
All of these wonderful comments and audience inputs encouraged us to move ahead with our next audio event.
---
Case Study #2. It All Starts with Colleen Hoover
Pumped up with the initial response, we decided to have the second episode on the works of Colleen Hoover.
The marketing machinery behind selling as many books as Colleen did is indeed a case study in itself. We had an open discussion on her works within ourselves and with the audience members.
This time, the stats reflected our progress as the event page got 386 unique visitors.
My takeaways from this one hour
A total of 97 people tuned in to this live audio event to hear our views on Colleen Hoover's themes, characters, and writing style.
Several audience members raised their hands to share their favorite quotes from her works, and it resonated with us all.
Many people openly admitted they didn't enjoy Colleen Hoover's books, and it was interesting to see things from a different perspective.
---
Case Study #3. The Seven Action Points of Taylor Jenkins Reid
Who can beat the dialogue writing craft of Taylor Jenkins Reid?
We had our third discussion on The Seven Action Points of TJR, and it was again, an instant hit.
Let's take a look at the stats this time.
There was an impressive growth in the number of unique accounts checking out our audio event page. This time, we had 530 visitors, which was a 37% growth from the previous week.
My takeaways:
The total attendee's count was pushed to 115, making it our first live event with 100+ listeners.
After the live event was over, I gained 15+ new followers and plenty of appreciation messages from the lovely LinkedIn community of bookworms.
By now, we'd created our niche with a consistent audience. Our followers knew when to expect the next episode of this weekly audio event series.
---
Case Study #4. The Works of Sally Rooney
This is one of my favorite live audio events where we discussed the works of Sally Rooney.
While it took us 3 audio events to reach the mark of 100, the fourth event saw a massive 50% growth in the number of attendees.​​
My prime takeaways from this episode
Irrespective of everything else, consistency is the key to success on LinkedIn.
LinkedIn Audio events are a great way of engaging and retaining an audience by building a unique brand recall value.
Even simple discussions can be inspiring for listeners.
Here's a sneak peek into one of the most touching after-effects of hosting a LinkedIn Audio event.
One of the listeners was so convinced after hearing us talk about Sally Rooney and Fredrik Backman that she purchased their books immediately. She sent over this screenshot that made my day:
---
LinkedIn Audio Events can be your wonder tool
Creators on LinkedIn can unlock an untapped section of the audience through unique Audio events. These events help you build a diverse voice beyond your niche, and directly communicate with your followers.
When you interact with people daily, they associate a voice with your name, enhancing your brand value. This new format is also easy to market and promote.
With so many perks and almost no cons, LinkedIn Audio events are indeed the next big thing happening.
If you wish to host your own LinkedIn Audio event, check out my free guide to get started.
Also, make sure to tune in to the next episode of our Reading Fiction LinkedIn Audio live series to hear us talk about our adventures, love, and disagreements on fiction novels.
---
Intrigued about LinkedIn but need help figuring out where to start or how it can benefit you? Grab The Ultimate LinkedIn Guide and start building your business on LinkedIn today.